by Sarah Bartlett, Tamar Marketing
'If you go down to the woods today, you're sure of a big surprise' and that's precisely what happened when I packed the car and set off to visit a semi-ancient oak woodland set against the gentle slopes of the river Lynher in southeast Cornwall.
I was there at the invitation of Phil Harwin, Greenwood Music CIC's joint founder and custodian of this very special place. His organisation is set up as a social enterprise dedicated to providing quite unique woodland experiences, crafting and wild glamping for its guests. He wanted me to experience for myself the wonder of the woodland environment and how it enables visitors to reconnect with each other and the natural world, whilst learning new woodcraft skills and enjoying being active in the great outdoors.

A unique woodland experience
I arrived just after noon. The sun was high, hot, and interrupted just occasionally by a fluffy white cloud drifting across the blue. The cool woodland shade provided a welcome reprieve from the stuffy car as I parked beneath the trees and killed the engine.
Windows up, I got out and instinctively drew a long, deep, lingering breath. Three Damsel Flies flickered by on their way to who knows where, and a Red Admiral butterfly landed silently at my feet. Overhead, the canopy whistled with birdsong. It felt overwhelming peaceful and just for a moment time stood still.
Connect with nature
It's not surprising really. After all, the human connection with nature has been well documented for many years. In 1984, Edward O. Wilson presented his Biophilia Hypothesis and argued that people have an innate predisposition to connect with nature. He described it as "the urge to affiliate with other forms of life".  Indeed, the word biophilia means 'love of life or living systems' and has been used to describe a psychological attraction to all that is alive and full of vitality.
And our surroundings certainly were full of vitality. You could see it in the greens of the leaves, smell it in the earthy tang of the woodland floor, sense it all around as we walked in contemplative silence along the path, heading downwards toward the river. The light was dappled now, shafts of sunlight stippled the trees. Up ahead a clearing perhaps?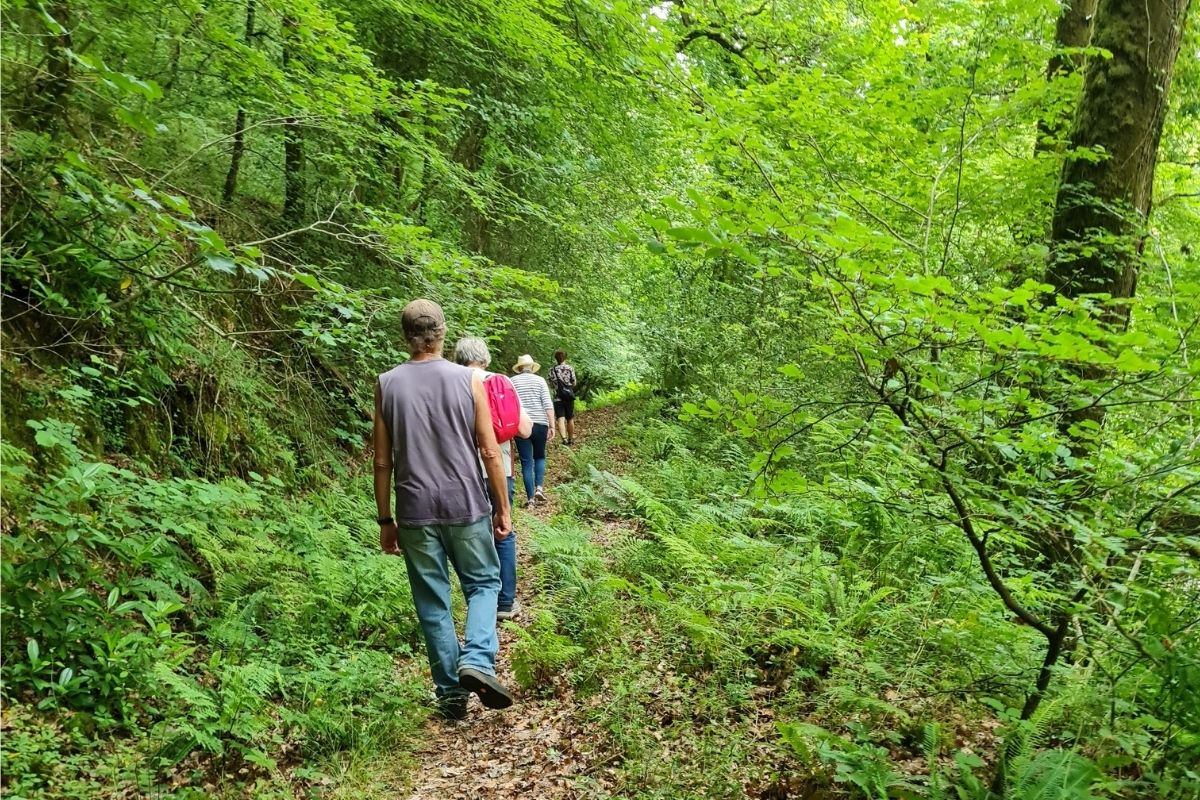 Yes! At last!  The path opened into a wide wildflower meadow right beside the river. We headed left where the Greenwood team had already set up camp. With a campfire well underway, fat sausages from the local butcher sizzled in anticipation of a hearty lunch. To our right, three large canvas bell tents dotted the clearing, each with its own suite of low-slung plank sofas and table, placed just outside the openings. Within I could see raised canvas sleeping platforms, a homely rug and a wood burning stove to warm chilly nights. The accommodations looked so right in their surroundings nestled at the edge of the clearing.
In another corner, strategically located behind a huge wild rose in full creamy-white bloom, the team had installed an open-air shower. What they'd actually done is rig up a large, galvanised watering can suspended from a stout branch over a slatted wooden 'shower-tray'. The idea being, I was told, you fill the can from the river, allow it to warm all day in the sunshine and enjoy a refreshing shower before retiring to your tent. What a glorious idea I thought, then immediately wondered if one can would be enough!
I could just see myself then; perhaps with friends, perhaps with family, squeaky fresh from showering aux-naturelle, cheeks pinked from a day in the fresh air, lolling in a hammock slung between the trees, admiring my newly carved spoon in one hand, river-cooled can of beer in the other as the sun set beyond the trees. Then immediately wondered if one can would be enough!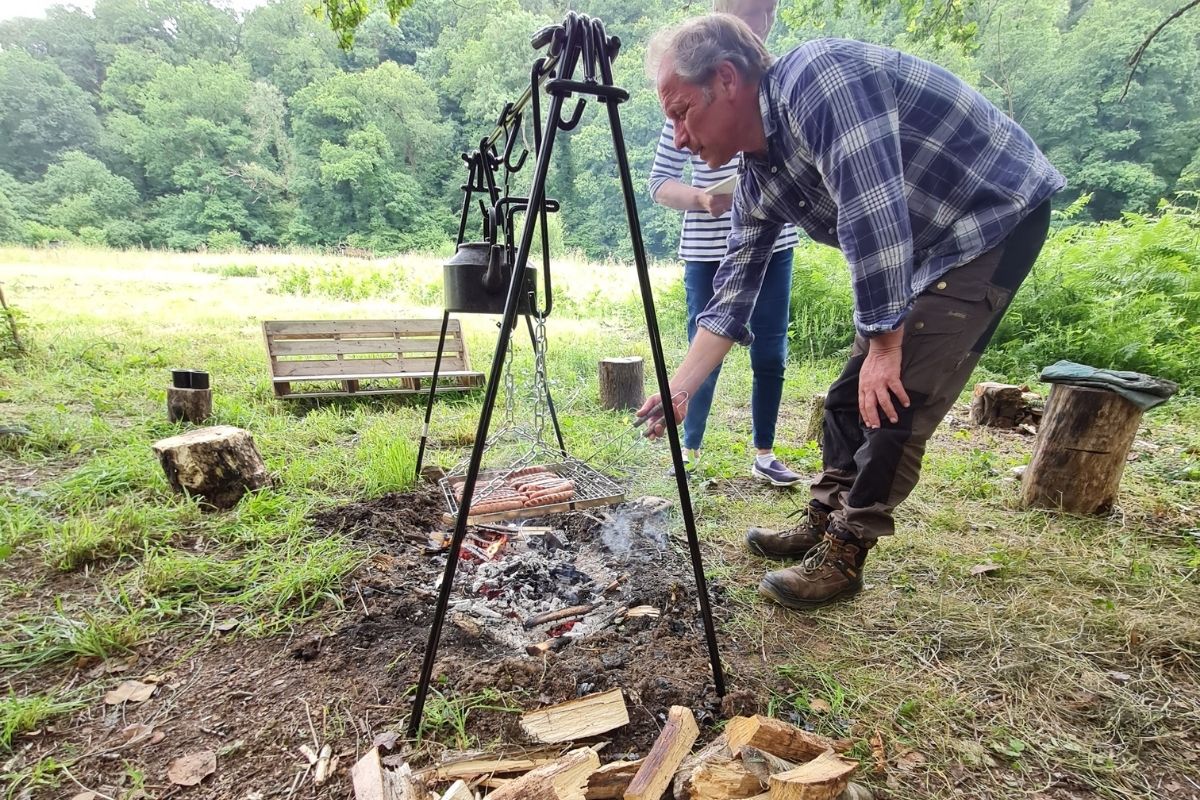 One of the best things about camping is the sense that one gets of a connectedness to nature. I love it. I've always loved it. And I've enjoyed many a stay at sites of one sort or another all over the country. I thought I'd seen and done it all. Yet somehow my all too brief afternoon deep in Caradon Wood in the company of the highly knowledgeable woodland professionals at Greenwood Music hinted at something much more profound and authentic. I came away with a tangible feeling of having been reset that endured for days.
I'm so glad I went. I'd like to bet that even the most skilled wordsmith would be unable to capture the essence of the place and do it justice. You simply have to experience it at first hand to fully understand.
What's more, you can do just that. Greenwood Music CIC has a range of experiences to choose from. From simple forest bathing eco-therapy (known in Japan as shinrin yoku) to Dru Yoga, which is akin to Tai Chi. You could learn to carve a wooden spoon or knife or craft a three-legged stool. Then combine the experience with dinner beneath the stars and a stay in one of the bell tents or tree tents.  If you do you can be happy campers in the knowledge that Greenwood Music reinvests 50% of its profits into its social purpose Wellbeing in Nature programme: a social prescription to the natural health service to people with multiple and complex needs. Put short, you'll also be giving toward the sustainability of social purpose.  Now that's a great thing right there!
For more information and to book, visit Greenwood Music CICs website. If you need more information, contact the Greenwood Music team on info@greenwoodmusic.co.uk