The Tamar Valley provides a wonderful base for adventuring of all kinds. One minute you can be in the thick of Plymouth city with its exciting shops, and vibrant leisure scene including cinemas, theatres, galleries, and museums; and the next, gasping at the raw beauty and rugged wilderness of Dartmoor. Plus, you're never far from the beach with two coastlines to explore. Or if you prefer, spend lazy days by our mystical, magical and majestic rivers: the Tamar, Tavy and Lynher.   In short, if you're after variety, convenience and choice you simply won't find a better place to holiday this summer. In this article, we take a look at both outdoor activities and indoor attractions if the weather takes a turn for the worse. So without further ado, let's dive right in.
Tree Surfers can be found just a few miles southwest of Tavistock. The Centre is located on the steep and densely wooded banks of the Devon side of the River Tamar. The landscape lends itself well to a variety of outdoor pursuits, These invariably involve picking your way through the trees either on the ground or high in the canopy. When you arrive, you'll find a good-sized car park, toilets, and plenty of picnic benches, so bring refreshments. There's also a network of woodland walks with amazing views, which means that you won't have to twiddle your thumbs with boredom while the kids rush off to enjoy some lofty fun. This attraction is always popular so make sure you book ahead.
Hands up who hasn't been on a lovely, nostalgic steam train ride with the little ones? It's a generational thing. As our parents and grandparents did before us, every Mum, Dad or guardian should thrill their tiny charges with a clickety-clackety, puffing and chuffing ride on a steam train. With the smell of the engine and the occasional whistle, these old iron horses never fail to delight and are a firm family favourite.  
Launceston Steam Railway links the Cornish town of Launceston with the hamlet of Newmills, by the river. We'd recommend not just riding the line, but making a day of it with a picnic and a wander along the footpaths before hopping back aboard for the return journey.  Be aware though, that the attraction has been closed during the pandemic, so check back with them direct to ensure that they're open and running before you arrive. 
'Jam, Crack and Off-Width' … no, we don't know what that means either! But Barn Climbing Centre do. Whats more they're more than willing to share their knowledge about all things 'bouldering and top-roping' with visitors to the Tamar Valley. We're reliably informed that there's nothing quite like hanging from a vertical surface by your fingertips. Well perhaps! But we do know that when it comes to indoor adventure, The Barn has something for everyone. Whether you're a complete beginner after some coaching, or an experienced climber or something in between. You'll find the Barn a few miles southeast of Launceston near the village of Milton Abbot.
Gawton Gravity Hub has over 500ft of unrivalled gravity fed two-wheeled descent with everything from flowing single tracks to steep, heart-in-mouth technical routes through the trees. With nine different tracks to choose from, each with a scary name such as 'Pump Track', 'Rattler' and 'Rooty Rutz' you'll need to be reasonably proficient (or stark raving bonkers) to give them a try. But then, under relentless pressure for excitement from teenagers, many parents might breathe a sigh of relief to know there's proper, adrenaline-fuelled fun to be had nearby. Gawton provides day passes priced at just £10. Remember though that this is a sport to be taken seriously. As such, you'll ride the tracks at your own risk. 
Tavistock's newest visitor attraction Tavistock Guildhall and Visitor Centre is set in the original Victorian Guildhall built in 1848. The building takes pride of place at the heart of the town adjacent to the magnificent town hall and Bedford Square.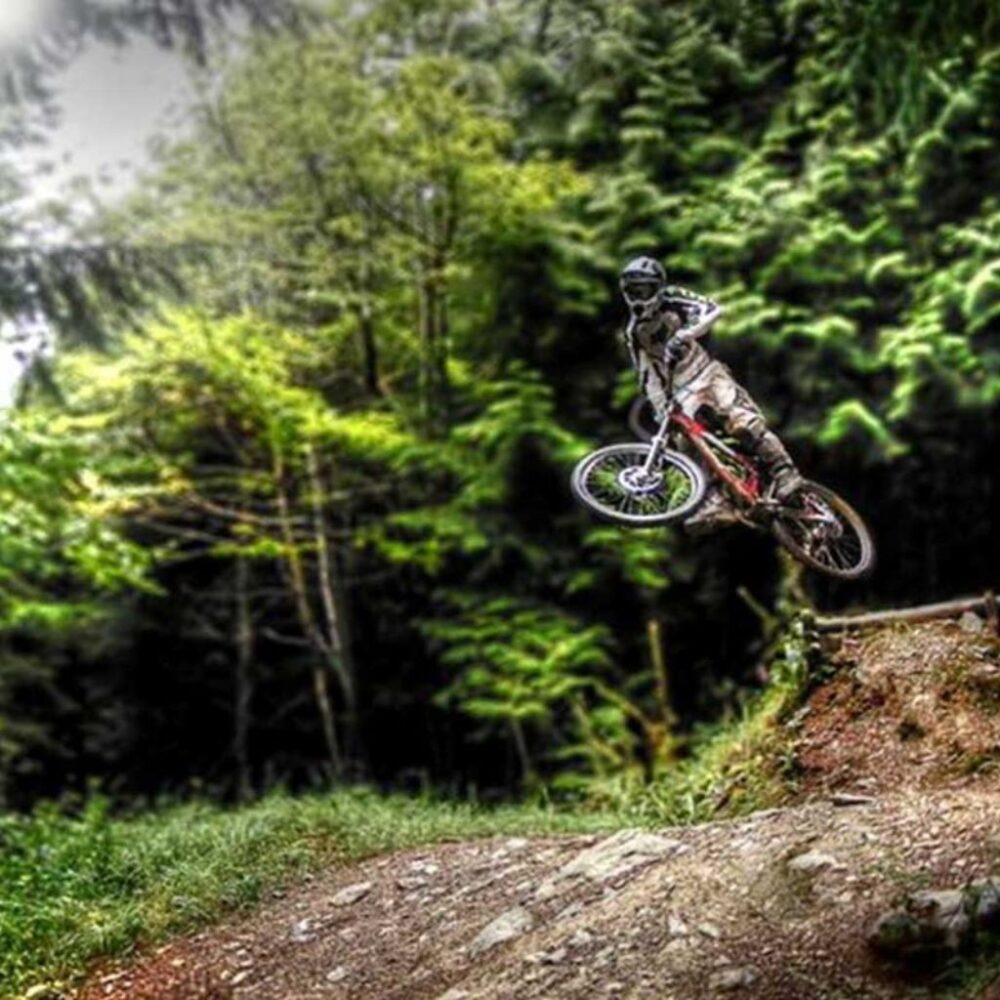 It also houses one of the earliest examples in the country of a purpose-built combined courtroom and police station.  Known as the eastern gateway to the Cornwall and West Devon Mining Landscape World Heritage Site, Tavistock is the ideal place to start exploring the rich industrial heritage of the area. Indeed, if you've spent some time exploring the local countryside and steep river valleys, you'll probably have encountered lots of evidence of a once highly productive mining landscape.
Dingles Fairground Heritage Centre has been closed to the public during the pandemic. However, the really fabulous news is that the centre reopened this Easter. Visitors can once again marvel at a truly astounding collection of historically significant rides and fairground-related artefacts. What's more many of the rides are restored and in full working order, allowing for a completely immersive experience of a bygone era. And there's more, Dingles boasts the biggest dodgems ride in the country with some 30 cars painted in a rainbow of bright colours just waiting for you to slide into the cockpit and have a go.
You won't have any difficulties parking either, thanks to the largest free onsite car-park in the area. The Attraction is totally accessible for those with physical and learning disabilities and undercover should the weather disappoint. If you get peckish then the Carousel Café serves delicious homemade meals using the Tamar Valley's abundant local produce. We think you'll struggle to find a more unique day out in the locality.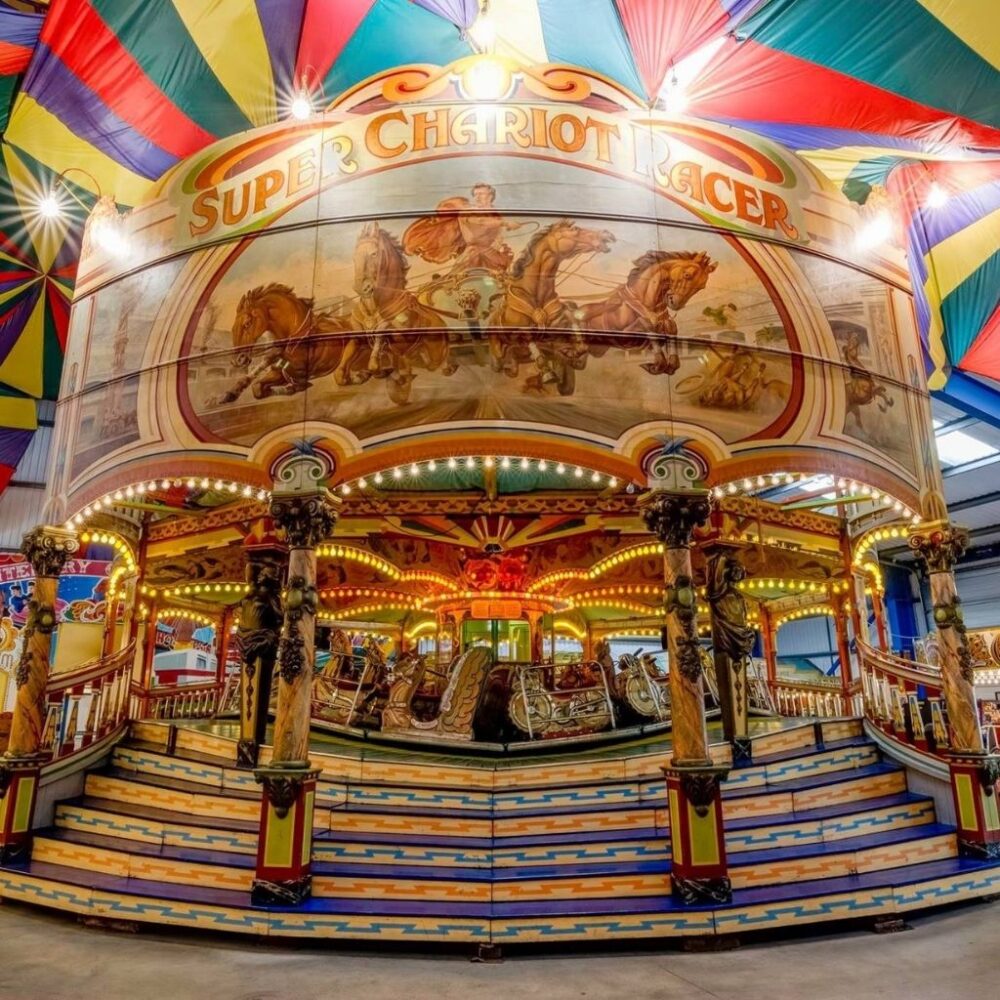 Sitting atop a natural mound and dominating the skyline, Launceston Castle is also reopening in April. It's possible to climb right to the top of its 13th-century round tower. Once there, the kids can pour imaginary boiling oil or fire arrows at their enemies whilst you admire the very impressive and far-reaching views. The attraction also includes an exhibition tracing 1000 years of history. But we think one of the nicest things to do is to choose a fine day, pack a picnic and enjoy some relaxing family time on the castle grounds.
You don't get much for free these days! Except for fresh air, wide-open spaces, and the beauty and serenity of Mother Nature that is. The Tamar Valley and surrounding area has all of that in spades. One of the very best and totally free of charge (except car parking costs) places to enjoy being outdoors with the whole family is the Tamar Trails Centre.  The Trails offer 25km of traffic-free paths for walkers, runners, cyclists and horse riders. If you have a dog and are so inclined, you can even enjoy an hour or two at Canicross.
The paths follow old mineral tramways and railways. They pass beside the remnants and ruins of arsenic mines and through dense woodland. Often the routes open onto spectacular, far-reaching views of the river and Cornish countryside beyond. Honestly, you can lose hours immersed in adventure, practising your off-road cycling skills, or running off all that excess energy. A word to the wise though – avoid Saturday mornings or you'll compete for parking space with the local Park Run group.  
Staying in the Tamar Valley means that you're only an hour or so by car from a choice of beaches. On the north coast around Bude or Boscastle, there are several sandy or shingle beaches complete with fascinating rockpools at low tide. Equally, the wide sandy beaches of southeast Cornwall at Whitsand Bay are within easy reach. 
For wide-open spaces, a bracing breeze and huge skies, as well as some of the best panoramic views of the southwest, head east of the Valley to the high Tors of Dartmoor. Or, for a Cornish perspective, head to Bodmin Moor to the west. In fact, most of the Westcountry is accessible on a day trip if you get an early start.
The Tamar Valley bridges East Cornwall and West Devon following the course of the Tamar River and taking in a swathe of lush countryside. Most of the area is designated an Area of Outstanding Natural Beauty too. With its convenient location, we really can't think of a better place to stay for your next Westcountry adventure. With variety in abundance, you won't struggle to plan an action-packed stay with something to suit everyone, whatever their ages or interests.   
Enjoy some local activities